C'est l'hiver and we are having a lot of fun singing in my classroom!
Here is a roundup of 10 of my favourite winter themed songs that will get your students singing, moving and learning more vocabulary!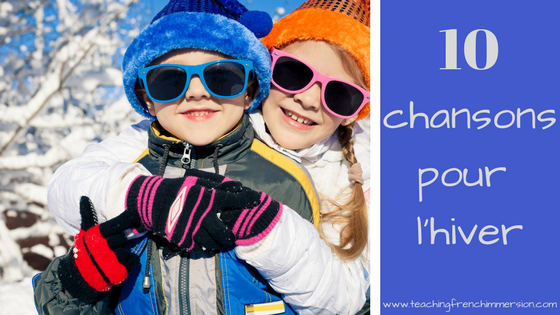 Charlotte Diamond is one of my favourite singers for children and "Bonjour l'hiver" is a great song for welcoming in winter!
2.  I live near a ski resort so most of my students are quite familiar with skiing!   Get ready for the mountains with this catchy tune!
3.  Who doesn't watching penguins ski?  Lots of fun with this familiar tune!
4.  "Jouez au hockey" by Jacquot is a favourite for the hockey lovers in your class!  It is a great action song and gets students up and moving!
5 and 6.  Mini-Tfo offers such great songs for French language learners!  There are two called "C'est l'hiver" that students love!
7. "La neige tombe" is another that is a great action song!
8.  "Un bonhomme de neige est né" is such a cute song and would help with vocabulary if you were going to build a snowman or write about building a snowman!
9.  "Petit flocons blancs" has some beautiful imagery and is a little slower paced.
10.  And if you are teaching your students all about Bonhomme Carnaval, they will love this song!

What are some of your favourite winter songs?
French Active Listening Posters
Subscribe to get lots of ideas for teaching French Immersion! PLUS receive this FREE set of Active Listening Posters!