Do you use task cards in your French Immersion classroom?  I do and absolutely love them!   We use them in scoot games, in centers and I often use them for early finishers to go back and practice!  Well, what about digital task cards?  I don't know about you but our school is moving more and more towards a "paperless" classroom and digital task cards are so versatile, they make a great addition to your classroom resources.
I am so excited because Boom Learning℠ has teamed up with TPT to now offer digital task cards on TPT!  I have been using Boom Cards™ with my students this year and they are a hit!  I have a number of different decks now available at my TPT store or you can also find them directly at my store on Boom Learning!
What is so great about Boom Cards?
You can use them on any device – SMARTBoards, computers, tablets, iPads, etc.
Boom cards are digital – no printing, laminating or cutting
You can use them immediately – access them from the Boom Learning Website
Students can play at home or at school – you can even assign them as homework and use the teacher resources to check in on how your students are doing
They provide immediate feedback for students
Students love playing them!  They have even been gamified as students can earn badges and awards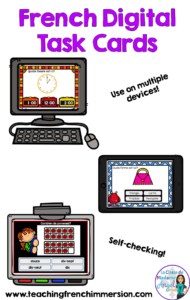 How does Boom Learning work?
Boom Learning is a subscription site – but don't worry, you get your first year for free when you download a Boom Card product from TpT!  Just set up an account, and you will have immediate access to the set(s) you downloaded. You can purchase more sets from my shop on TpT or from within the site. Once you have your account, be sure to look around the site. The list of French resources is continuing to grow.
You can try them out by downloading this number set for free.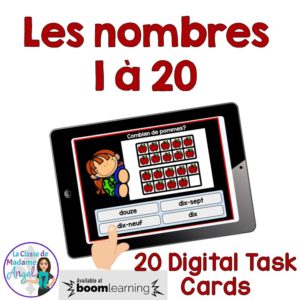 Enjoy!
Madame Angel
Disclosure:  I will receive a free renewal of my Boom Learning subscription for writing this blog post.
French Active Listening Posters
Subscribe to get lots of ideas for teaching French Immersion! PLUS receive this FREE set of Active Listening Posters!