The holiday season is quickly approaching and with it comes some fun songs!  Here is a list of 17 of my favourite Christmas (and some general) holiday songs.  Many are suitable for the holiday concert and some are great for dancing!  There are also a couple of traditional religious songs.  Please be sure to preview and use what is appropriate to your school community.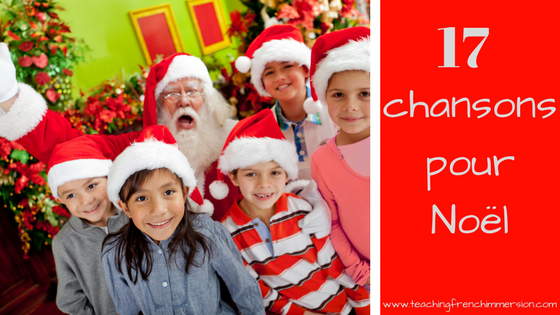 Songs About le Père Noël
 Quand le Père Noël is a great action song!  I have used this one a lot in concerts when I have taught Grade 1.  The words are simple and repetitive and students love doing actions to it!
2.  J'aime le Père Noël
3.  Le gentil Père Noël
4. Petit Papa Noël
5. Dans son manteau
6. Père Noël frappe à la porte
Christmas Songs for Dancing
7. This song has great actions and I love the variety of styles of music.
8. This song is a great little dance! The video also provides the instructions which is great to teach your students.

General Christmas Songs
9. Who doesn't love Rudolph? Kids love singing this one!
10. Canon de Noël is another great one for a concert.
11. Vive le vent tends to be sung a lot this time of year, though it is more of a winter song.
12. O Christmas Tree in French! Mon beau sapin
13.  Notre arbre de Noël
14. Lumières de Noël is a bilingual song. It makes a great finale for a holiday concert!
Religious Christmas Songs
For those who teach in a religious school or who are able to focus on the religious aspects of the holiday, I have a few favourites as well.
15. Cloche de Noël
16. L'enfant au tambour
17. Il est né le divine enfant
Joyeux Noël!
Read More:  10 chansons pour bouger
Read More: New Year's Activities French Immersion Students will Love
French Active Listening Posters
Subscribe to get lots of ideas for teaching French Immersion! PLUS receive this FREE set of Active Listening Posters!