What does a first day in a Grade One French Immersion class look like?  This is a question I get asked about a lot!  So, I thought I'd share 6 activities that I like to do on the first day of school!   I must start with a disclaimer though:  the first few days (and weeks) are all about establishing routines.  We start and stop activities a lot so that I can model for my students the expectations for behaviour and for keeping our classroom in order.   This post doesn't go through the routines that I also teach on the first day but we definitely spend a lot of time learning routines for things like hanging up our belongings, walking down the hall, lunchtime routines etc.  That being said, here are 6 fun ideas for the first day (or days) of school!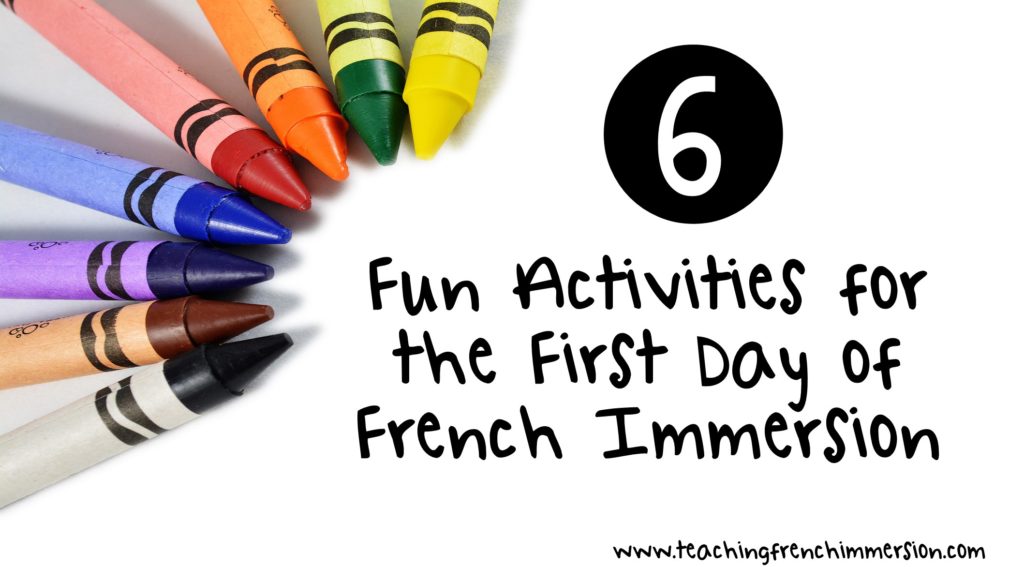 This post uses affiliate links.
1. Sing

We sing a lot in my class!  On the first day we learn a Bonjour Song!
Bonjour mes amis, bonjour!
Bonjour mes amis, bonjour!
Bonjour mes amis, bonjour mes amis, bonjour mes amis bonjour!
Bonjour!
If you are not familiar with the tune, here is a teacher singing it on youtube:  Bonjour Mes Amis .
Once we learn the song, we learn to introduce ourselves.  "Bonjour, je m'appelle _______."  After practicing for a bit, we stand up to sing the song, shaking hands with our new friends.  When the song is over we introduce ourselves to a new friend.
Don't forget to change the words at the end of the day to sing the song "Au revoir, mes amis"!
2.  Read
Each day we read.  There are several books that I try and read on the first day, though I do not read them all at once!  Attention spans are short and I find it better to keep my students moving!  However, four books that I generally use on the first day are: David va à l'école by David Shannon,  Pat le Chat: J'adore mes souliers blancs by Eric Litwin,  Rouge, rouge, qu'est-ce qui est rouge by me and our Alphabet book!
David va à l'école is a great book to introduce rules as David doesn't follow any!  I don't spend a lot of time coming up with class rules the first few weeks as I find my students don't really understand them in French!  After two years of school, however, most children are quite familiar with rules and routines and this book is a fun way to reinforce good behaviour and teach "oui" and "non"!  You can read more about this book in this blog post.
Pat le Chat: J'adore mes souliers blancs is a very familiar book to students and is one of the reasons I pick it!  I love how excited children get to realize that some of their favourite books are ones that we will be using in French!  This books is great for introducing colours and I do several activities with this book later on in the year.  You can read more about those activities in this blog post.
Rouge, rouge, qu'est-ce qui est rouge is a book that I wrote to introduce our colour of the week, as well as the language structure "Est-ce que . . .".   Children love the pattern of the book and we have a lot of fun with it! You can read more about this book in this blog post.
The Alphabet book is another one of my books!  I printed a copy of my Alphabet Poster set and added a cover.  I then bound it together to make a book!  I teach the alphabet by sound and  we read through the book each day for the first month of school.  "A, a avion, B,b bateau . . ."  If you would like the cover, click on the picture below!  The poster set is available in my TPT store.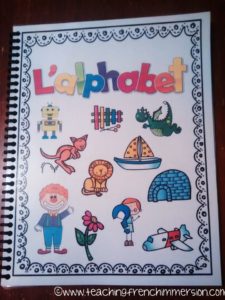 3.  Write
Just as important as reading daily, I also believe that students need opportunities to write each day.  We start of the first day of school by making our first class book.  I love class books and if you have any of my Emergent Readers, you will know that I often include class book options as follow-up.  If you are not familiar with class books, the idea is that each student contributes a page.  Once the pages are finished, you bind them together into one book.  I allow each student a chance to take the book home before it eventually makes its way into our classroom library.  We make lots of books throughout the year and at the end of the year, I draw names and allow each student to choose a class book to take home!
For the first day of school, I have students simply complete the page by writing their name.  They then need to decorate the frame and draw a picture of themselves.  I model how to draw a picture using the space – we practice on chalkboard before I send them back to their seats!  I also take a picture of the class which I glue to the cover page.  I tend to only laminate the covers and leave the rest of the pages in paper form.  Click on the link below for my class book template.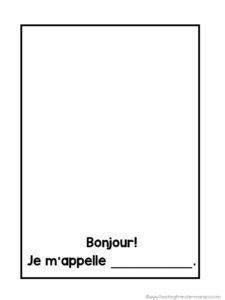 4. Count
I keep Math fairly simple the first week of school.  We do a daily counting routine leading up to the hundredth day of school.  We tally the daily number, place it on a hundreds chart, place a sticker on the 10 frames and use base 10 to count as well.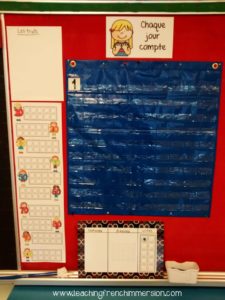 We will also learn to count to 12 with this song, Le Boogie Woogie des chiffres.
If we have time, I will put out a different math manipulative at each table.  After a few minutes of exploration, I will call out numbers and have students work on counting their different manipulatives.  I use a variety of things,  so anything you have on hand that they can count will work! For example, linking cubes, square tiles, buttons
5. Create
By the time the afternoon rolls around, we are ready for a little craft!  We make "Bonjour" crowns which you can find for free in my store!  They are so cute.  Once we are done, I usually take my class outside to take their pictures wearing their hat as well as taking a class picture with everyone on their first day of school!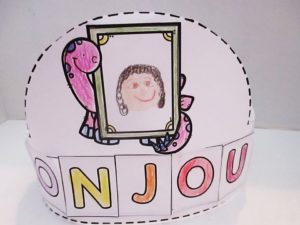 6. Play
Maybe I should have started with this one, but I find that students in French Immersion need lots of time to play!  Learning French is tough work the first few weeks of school and I am always make sure to allow extra time to play outside (have to enjoy the nice weather while we have it) or to play with toys within the classroom.   I use play time as an opportunity to teach new vocabulary, relevant to their interests and to get to know them.
That about wraps up our day!  What are some of your "must do" activities for the first day of school?
Read More: 10 jeux de vocabulaire pour la rentrée
Read More:  5 Fun Alphabet Centers for French Immersion
****Disclosure: If you purchase any of the products linked in this post , I may receive a small percentage from the respected affiliate programs at no extra cost to you. This helps support the cost of running this website. Thank you for your support!****
French Active Listening Posters
Subscribe to get lots of ideas for teaching French Immersion! PLUS receive this FREE set of Active Listening Posters!