"La politesse" is such an important component to our classroom environment.  It is so important to spend time with students early in the year working on appropriate behaviours and learning to be polite in French.  There are a lot of tools that I use to teach about manners.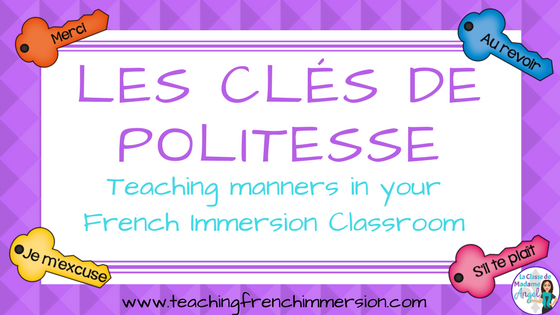 This post contains affiliate links.
SONGS
This cute song features the princesses practising their polite words.  Bonjour, Au revoir, s'il te plait and merci are the words that are practised in this song.
VIDEOS
The Berentstein Bears is such a great series for teaching students citizenship and begin part of a community.  In this video, Brother and Sister learn all about being polite.
READ ALOUDS
One of the things I love about David Shannon's books is the simplicity of language.  My students can understand without fully understanding the words! The book,  Non, David!
  features the character of David getting into all kinds of trouble at home.  My students can totally relate to this character and thoroughly enjoy his antics!
I use Non, David!
 with my class to introduce the idea of good manners and being respectful in the classroom.  After a discussion about all the things David shouldn't do, we read a book from my collection called J'ai de bonnes manières.  We used this book to compare how David did not show good manners and how we can show good manners.
Many of the emergent readers in my store come with colourful big book.  I used the big book to share the text with my class.  Written in very simple language, my students enjoyed being able to use the picture cues to tell what the text was about.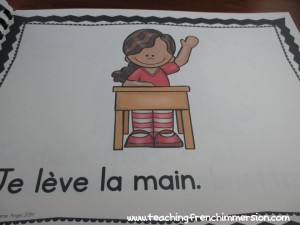 We then compared what is bad manners and what is good manners.  I had my students divide a piece of paper in half and write "oui" on one side and "non" on the other.  They then drew a picture of somebody showing bad manners and someone showing good manners.  We will eventually add text to our drawings but at this stage I will be pulling them in smaller groups to support their limited vocabulary.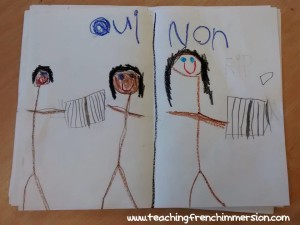 Once we have a good understanding of the book as a whole class, I give my students a copy of the black and white version.  Done in a half size, students always love to take these familiar books home to share with their families.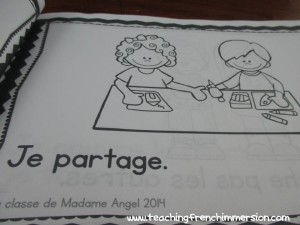 My J'ai de bonnes manières package also includes the resources to make a class book.  Each student contributes an idea for one way they show good manners.  This is then compiled to make a book for the class to share.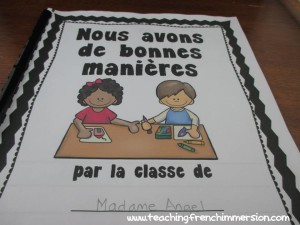 LES CLÉS DE POLITESSE
The "keys of politeness" is another tool that I use to practice vocabulary.  Cut out the words that you want to teach and place them on a binder ring.  These become flashcards that we practice to learn the key vocabulary words.  Alternatively, you can use the keys to create a bulletin board display.  These keys are a subscriber exclusive and are available when you subscribe to my newsletter by following the link below.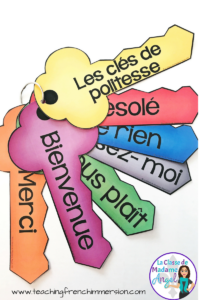 Thanks for stopping by!  Be sure to pick up your own set of "les clés de politesse" when you sign up for my newsletter below.
FREE "Les clés de politesse"
Sign up to receive this free set of posters.
PLUS, you'll get the newsletter with latest posts, exclusive promotions, and occasional gifts!

Read More:  10 chansons pour la rentrée
Read More:  10 jeux de vocabulaire pour la rentrée
****Disclosure: If you purchase any of the products linked in this post (except those from my TPT store), I may receive a small percentage from the respected affiliate programs at no extra cost to you. This helps support the cost of running this website. Thank you for your support!****