It is Canadian Thanksgiving next weekend and I thought I would share today my plans for celebrating "L'Action de Grâce" in my French Immersion classroom!  Our focus is on being thankful and learning to say "Merci".  Here are 5 ideas to help you celebrate Thanksgiving in your French classroom!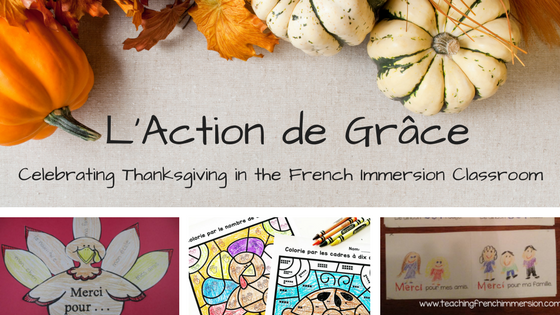 This post contains affiliate links.
 Sing
We love to sing in my classroom!  I introduce songs each week and Thanksgiving is no different!  This song ties in just perfectly and I love the music!
2.  Read Alouds
There are three paperback books that I love to read this week!  The first is called "Merci d'être ici!" and is about a little girl who is not happy about Thanksgiving.  As the day unfolds and she spends time with her family, her attitude changes and in the end she is thankful for everyone visiting.  This book has beautiful pictures and a simple text that is great for early learners.  It is a recount of her day and would make a good mentor text if you are working on that.
Si tu veux dire merci, crie hourra!  is a fun song to the tune of "If You're Happy and You Know it".  This book is full of colourful images and is a fun book as we move into fall!

And, who doesn't love a good turkey adventure story?  Your students will laugh out loud with the antics of these fun turkeys!
3. Emergent Readers
For practising our sight words, we will be working on a set of 3 mini-books that are available in my Teachers Pay Teachers store.  My students love these mini-books.  Once they are completed, they go in their book bins and students read them over and over again during read to self or silent reading time!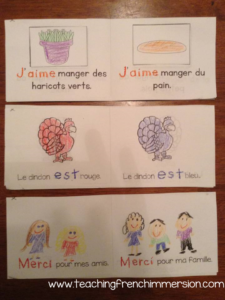 4.  Writing
For our writing time, we will be working on a fun craftivity!  I always find children really love making turkeys!  We will be using this fun template, available for free in my TPT store to make this cute turkey craft: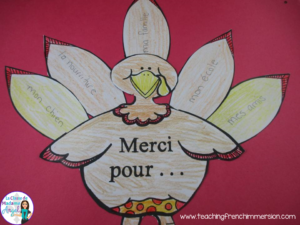 5. For Fun
And for fun or for those early finishers, I am planning to have out some colour by math pages.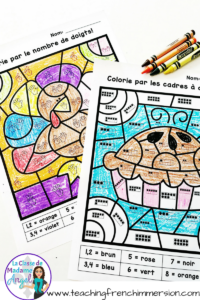 For the older student, this fun activity booklet with a word search, writing prompts and other fun activities is always a hit!  Word wall cards are included to support second language learners!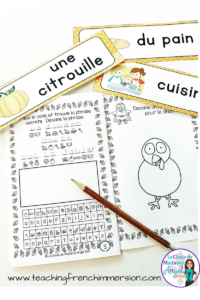 Happy Thanksgiving!
Read More: 10 Jeux de vocabulaire pour la rentrée
****Disclosure: If you purchase any of the products linked in this post, I may receive a small percentage from the respected affiliate programs at no extra cost to you. This helps support the cost of running this website. Thank you for your support!****
French Active Listening Posters
Subscribe to get lots of ideas for teaching French Immersion! PLUS receive this FREE set of Active Listening Posters!