If you had to ask me what my favourite resource that I've created is, I would probably have to say the Math Problem of the Day or "Le problème du jour".  Made in an interactive notebook style, it is always a popular time in my classroom!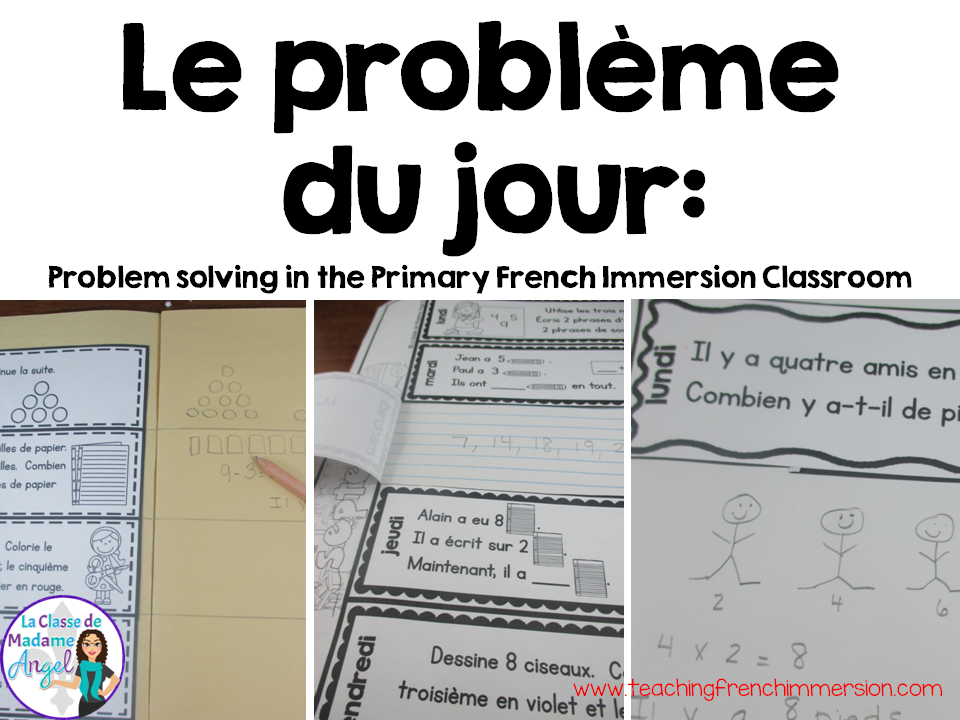 Why use "Le problème du jour" in your clasroom?
I use the "Le problème du jour" as a warmup or Minds On activity to start our Math period. Students come in from recess, grab their notebook and away they go.  The questions are short and made to only take about 5 minutes.  I find that it helps students transition and get their minds ready to focus on Math.
Why use an Interactive Notebook?

Interactive notebooks are such a fantastic tool within the classroom that I decided to create this series in a "flip book" style.  My students get so excited, they love to flip over the question and write their answer underneath!  If you are already using Interactive Notebooks in your classroom, then these questions fit right in!  No need to even create a special notebook.  If you do not have Math notebooks, you can create a special Problem of the Day notebook for your students.
Can I use "Le problème du jour" in Grade 1?
This series is designed to spiral in difficulty.  This means that questions progressively get more difficult as the months increase.
In September, Grade 1 French Immersion students have limited vocabulary and limited reading ability.  Therefore, the questions use simple wording, and lots of illustrations.  Addition and subtraction problems give students the number sentence and a final concluding sentence.  This allows children to get used to the style and format.  In September, young learners need lots of scaffolding and in my classroom we work together each day to solve the problems.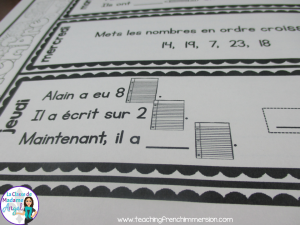 By February, students are much more proficient readers.  The questions still use very simple language and illustrations but the level of reading needed has increased.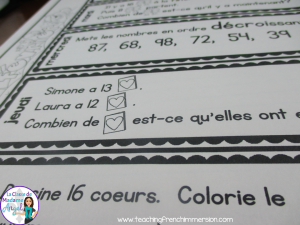 By May, Grade 1 students should be well on their way and the questions are phrased as standard word problem questions.  By introducing "Le problème du jour" early on in the school year, students become quite adept at solving the problems and working more independently as the year progresses.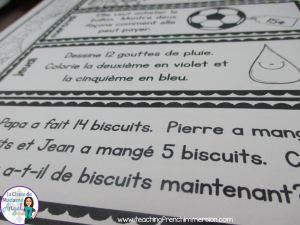 What about "Le problème du jour" for Grade 2 and 3?
"Le problème du jour" is also available for Grade 2 and Grade 3.  Unlike Grade 1, the level of language does not spiral but the difficulty of questions changes.  Students are asked a variety of questions from a number of different math strands.  I find that this provides variety for students and offers a quick review of previous topics.  Questions are designed to align with the Ontario curriculum but should be similar to other curriculums as well.
What are some additional ways to use "Le problème du jour" ?
While I love the interactive flip book style, it is not always practical for every student, teacher or class.  Here are a couple of other ways my colleagues have adapted "Le problème du jour" format for their classrooms.  In Grade 2, try having students glue the full page into a scrapbook and draw lines.  The questions are on one side and students can show their work on the other side.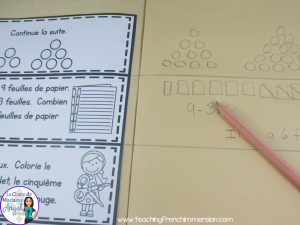 When using "Le problème du jour" with Grade 3, how about cutting out the question and having students glue it to the top of the notebook.  This allows for students to show their work and how they solved the questions.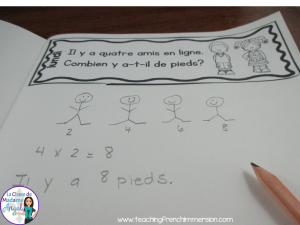 However you use them, I hope that this series helps your students develop their problem solving math skills in a fun and engaging way!  This series is available for Grades 1, 2 and 3 in my store.  Click on the links below to find the level you need!
You can also try them out with my sampler packet for Grades 1, 2 and 3!
French Active Listening Posters
Subscribe to get lots of ideas for teaching French Immersion! PLUS receive this FREE set of Active Listening Posters!