Happy New Year and Bonne Année!  How do you celebrate the New Year in your French Immersion classroom?  While we don't go back until after the official New Year begins, I still like to spend a couple of days celebrating the New Year with my students as we also review routines and expectations.  Here are 4 fun ideas to celebrate the New Year in your Primary French Immersion classroom!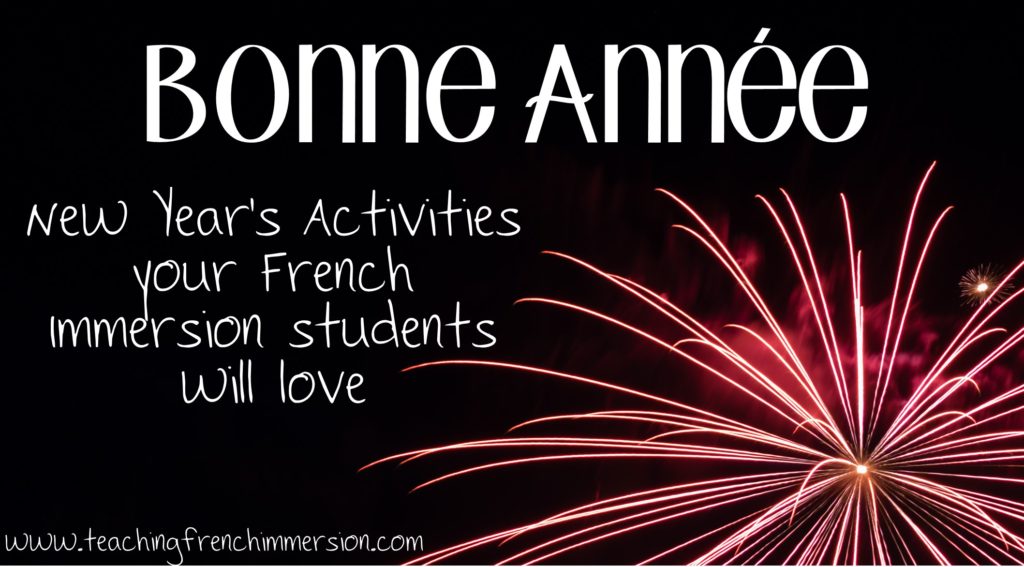 1. Sing
We love to sing in my classroom and this fun song is a great way to welcome in the New Year!
2.  Make a New Year's Resolution
Do you make resolutions with your kids?  Tricky topic, I know.  Right now my student's have had exactly 4 months of French Language instruction!  While they amaze me at how far they have come, I know that most would not have the vocabulary to independently express a New Year's Resolution.  However, I also know that they will come back from their holiday ready to go!  Familiar with expectations and routines, it is the perfect time for a little goal setting.  So, what's a teacher to do?  Write a book of course!
Nous prenons de bonnes résolutions is a great book to introduce your students to the idea of making New Year's Resolutions.  Written with simple, yet practical language, this book uses the language structure:  "Je veux. . ." and shows a variety of children trying new things.   As always, I have included a "Big Book" version.  Print this page out and bind it together.  It is the perfect size for a Read Aloud and my students love to borrow these books from our class library to read over and over and over again.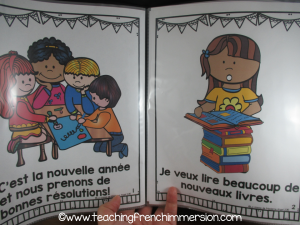 Nous prenons de bonnes résolutions also comes with two different half page sized versions.  The first version includes illustrations and texts.   I use these during our small group times for partner reading.  They also make great books to send home for your Home Reading program once children become familiar with the books.  The second version does not have illustrations.  I use this version as a center so that students can draw in their own illustrations to demonstrate their understanding of the book.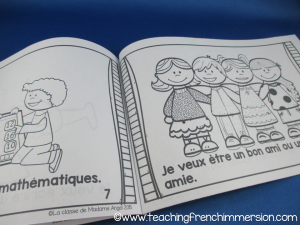 I think my favourite part within the package Nous prenons de bonnes résolutions is the class book.  I make a lot of books collaboratively with my class.  I try and make enough throughout the year that every child will get to take one home at the end of the year!  My students love reading each others work and I allow each child the opportunity to take the class book home overnight before it goes into our class library.  The language in this particular class book will be just right for my little ones to understand.  However, writing down their own ideas will be more challenging.   To help my writers be successful, I often work with small groups to complete the page throughout the week in Guided Writing time.  Or, if I am having them complete the task as a whole class activity, I will often record each child's idea on a strip of chart paper and hand it to them to copy.  Either way, students love the class book!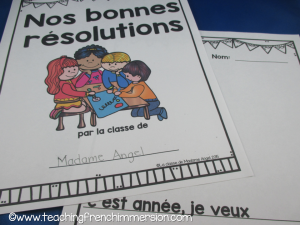 3.  Activity Booklet
If you are still look for more activities, I have also created a booklet of activities as part of my On s'amuse series!  The "On s'amuse" series features a mini-booklet with 7 different activities.  The activities range from secret codes, to mazes and other fun activities!  They are great for early finishers or to leave for a supply teacher!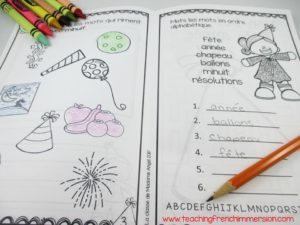 Vocabulary cards are also provided with pictures wherever possible!  You can find the New Year's version here or you can find the complete series of "On s'amuse" booklets here!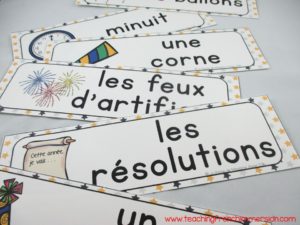 4.  Make a craft
My students love crowns!  You can find this free one in my store!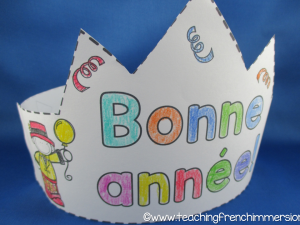 How do you celebrate the New Year in your class?
Bonne année!  Best wishes for a great year!
French Active Listening Posters
Subscribe to get lots of ideas for teaching French Immersion! PLUS receive this FREE set of Active Listening Posters!