Well, we had  a lot of rain this week and I thought it was the perfect opportunity to talk about all the fun things we can do in the rain with my French Immersion students!
First, we watched this fun video from mini-tfo.
Then, we talked about all the different things we can do in the rain.    We have already been working on our Spring vocabulary using my Spring Themed Literacy Activities.   We did take some time to make a list of sentence starters.  This month we have been working on adding details to our writing and starting our sentences in different ways to help create interest.  Some of the starters they came up with were:
Quand il pleut, je peux . . .
Quand il pleut, je porte . . .
Quand il pleut, j'aime . . .
Quand il pleut, j'entends . . .
And, our list went on!  I love how much variety my students are using in their sentences!
Then, it was sharing time.  We always spend some time sharing "knee to knee" about our ideas before we write.  My students love to talk and I love hearing them!  Providing them with a variety of sentence starters helps even the most reluctant learner feel confident in talking with their peers.
Once we shared, we turned to writing!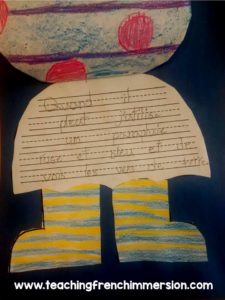 My students loved being able to write on the cute umbrella pieces!
They also had a lot of fun decorating their umbrellas and boots!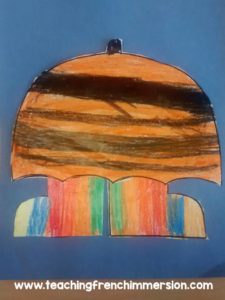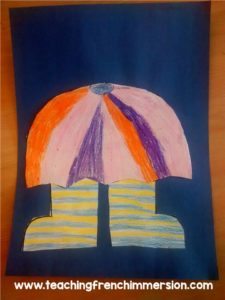 I can't wait to decorate our bulletin board on Monday!  This craft idea came from Mrs T's First Grade Class.  Scroll down to the end of the post for the free template!
French Active Listening Posters
Subscribe to get lots of ideas for teaching French Immersion! PLUS receive this FREE set of Active Listening Posters!