Welcome to a new series of posts that I have decided to call "Read Aloud Wednesdays".  One thing you will discover about me is that I love books!  And I love to teach children to read.  One of the truly great privileges of being a primary teacher is introducing young children to the world of literature and helping them develop and grow as readers.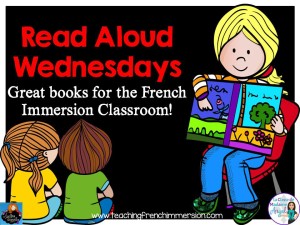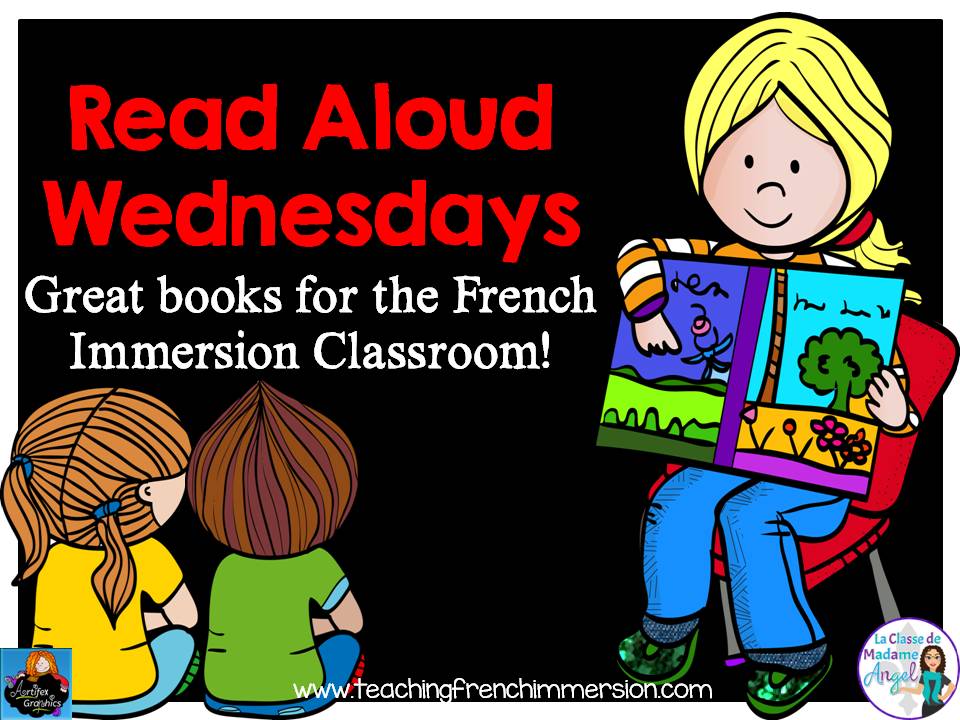 This series will feature a wide variety of books that I love to introduce to young readers.  From fiction to non-fiction to poetry to joke books, I love to expose my students to it all!  Some weeks I will feature books that I have written myself.  Others will be books that are a part of my collection.  Regardless, I firmly believe that the best way to grow readers in my classroom is to read and read and read some more.  Read on for my first pick in this series!
Read Aloud Wednesdays:  Dans mon sac à dos
After a brief stint in Grade 2 French Immersion, I am heading back to Grade 1!   My students start French Immersion in Grade 1 so one of the biggest challenges is finding ways to introduce vocabulary, language structures and basic reading skills to students with minimal to no knowledge of French.  I wrote the book "Dans mon sac à dos" to meet some of these challenges.
We start off the year learning the language of the classroom and the vocabulary for school supplies that students will be using throughout the year.  "Dans mon sac à dos" features a backpack that is filled with a variety of familiar school objects.  Like many of my emergent readers, I have included a full colour version of the text.  I print this and bind it to place in our class library.  Once students are familiar with the text, they love to practice reading it.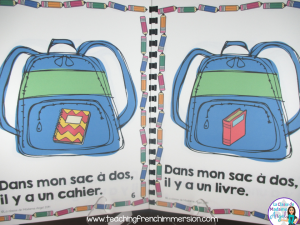 I have also included black and white versions of the book.  This allows teachers to provide individual copies for students, whether to use as a take home book or to place in book bins for students to access while in school.  One version is the text and illustrations in black and white.  I will often use this to make copies for students to read during independent reading time.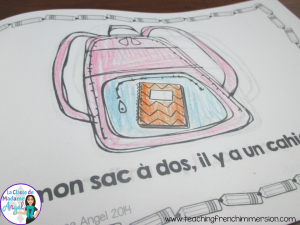 The second version allows students to illustrate their own book.  My students love to draw the backpack complete with the objects indicated!  They also love the surprise at the end of the story (I won't give away the secret ending here!).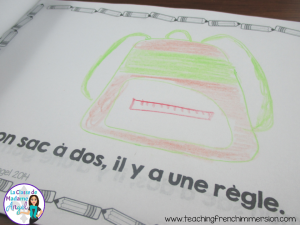 One other activity I like to do is the creation of a class book.  To make a class book, I have each student create a page and then bind them together to create a book.  "Dans mon sac à dos" provides you with everything you need to make your own class book!  It is absolutely fascinating what creative things students come up with to place in their backpack!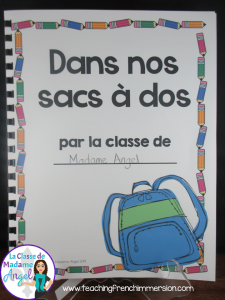 What are some of your favourite read alouds?  Do not forget to check back next Wednesday for more fun read alouds for the Primary French Immersion classroom.
French Active Listening Posters
Subscribe to get lots of ideas for teaching French Immersion! PLUS receive this FREE set of Active Listening Posters!